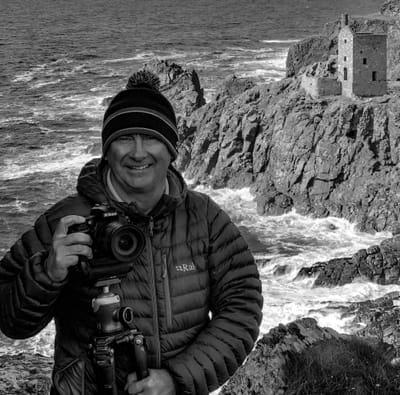 Ross follows two paths in art, both are as important as each other to him as a fine art photographer and an artist. He gained a degree in art and design and worked in advertising as a graphic designer, he also qualified with a CAM diploma in marketing and a member of the Society Industrial Artists and Designers. His work can cross over at any stage of the conception and interpretation both art forms offer so may possibilities and opportunities to express in his work.
Minimal images conveying a moment in time or telling a story are an influence to his work in his fine art photography. Ross's art pieces as you can see in a small sample of his images here cover a wide range of subjects but his goal is to create work's that evoke in the owner a gamut of experiences every time they view it and possibly see something new each time. Ross says "I don't want to be labeled or placed in a particular box so my subjects can vary from edgy fine art photography, using the camera to put an artistic slant on images, I like landscape photography, seeking out new locations around the country is a wonderful challenge to me and walking and climbing to get the perfect view and shot is stimulating every adventure.
I would also like to produce a book with my fine art images in defining certain areas such as nature, the countryside and the coast. In the summer Ross can be found in Cornwall, Devon and the Yorkshire Moors creating works which are for sale at present and a visit to his studio can be booked by appointment to have a private view to discuss and gain an insight into his work process and purchase his work. Mixed media as well as acrylic and oils are all materials he uses and so with all these mark making materials enables him to express himself as a professional full time fine artist. He is a commissioning artist and photographer and so client lead conceptions offer a great challenge to produce a work not only that he is proud to put his name and reputation to, but one that provokes and evokes from a client, senses and feelings towards the finished commission. Ross has had his work in an exhibition The River and Life opened by HRH Princess Alexandra.
Ross is open to gallery owners who would like to display, promote and exhibit his work and he is now accepting commissions for 2021/2022 from private clients, holiday home owners, hotels, restaurants, cafes and collectors and lovers of art, especially seascapes.